Garden Gifts
We have a large variety of Garden Gifts in stock: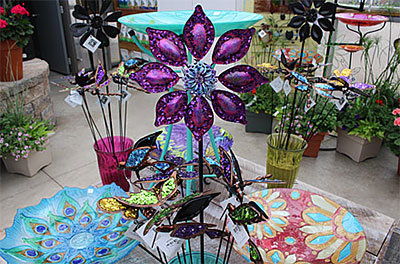 Glass Insect Catchers
Birdbaths
Home Decor
Stepping Stones
Bereavement Gifts
Lawn Ornaments
Garden Stakes
Winchimes
Handblown Glass Hummingbird feeders
Wall Hangings (Indoor and Outdoor)
Statuaries
Candle Holders
Yard Lanterns
Solar Powered and Glow in the Dark Lawn Ornaments
Create Your Own Garden Theme
Achieving a lush and charming garden setup is always possible if you have access to the right garden products and materials. You also need some creativity and ample knowledge of different garden styles or themes. With our wide selection of garden supplies and accessories, you can easily create a one-of-a-kind themed garden in your home. You can also help a friend or a family member achieve his or her dream garden setup by purchasing our products. These products are excellent garden gifts for your loved ones. Here are some of the garden themes that you can adopt for your outdoors:


Tropical garden
Japanese-inspired garden
Rock garden
Wildlife garden
Butterfly garden
English-style garden
Fairy garden
Extensive Collection of Garden Gifts and Supplies
As a family-owned and operated business, we have a deep understanding of our clients' needs. We know the kind of products that will add value and beauty to their gardens or landscaping. This is one of the reasons why most Michigan homeowners and landscape contractors choose our shop to get their needed garden accessories and materials. Please visit our shop and see for yourself our extensive collection of garden supplies that are also perfect as garden gifts. From beautiful statuary and birdbaths to stylish garden decors, we have them in our inventory. If you're from Cadillac, Jennings, McBain, Gilbert, Arlene, Lake City, Hobart, Tustin, Bristol, or Marion, MI, we urge you to visit us now or call (231) 775-9362 to get a comprehensive list of our garden products.